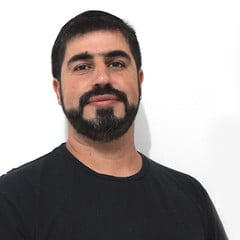 Ricardo Guimaraes
Keyframe Illustration - Visual Development
East Lansing, United States of America
Summary
I'm a freelance Concept Artist and Illustrator for the entertainment industry. I love challenges and always do my best to impart this excitment on every work I get involved with.
My illustrations have been showcased at ImagineFX Magazine and Ballistic Publishing's EXOTIQUE, among many others.
I can work on many different styles, and I am able to produce Concept Art, Illustration, Matte Paintings, Color Keys and Presentation Boards.
Among my clients are: Blizzard Entertainment, Square Enix, Ghost VFX, among many others.
Thank you for your interest in my work! I'm looking forward to your contact soon!
Skills
Concept Design
Environment Design
Illustration
Matte Painting
keyframe illustration
keyframe
cinematic illustration
Software proficiency